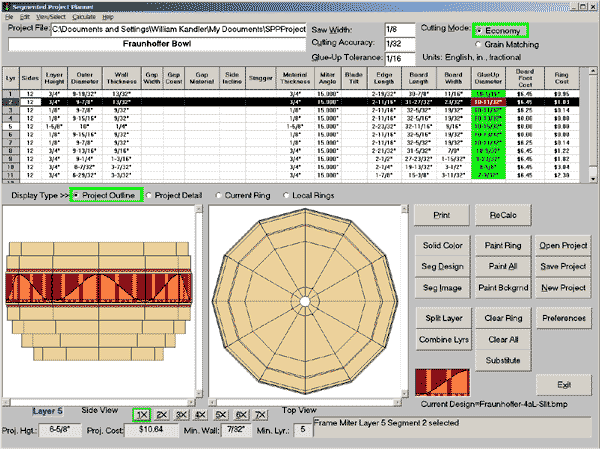 Three factors determine how successful you will be in producing professional looking designs:
SHAPE is king of the heap and gives you the object itself. The

Segmented Project Planner

supports achieving that perfect shape by providing Sketch-A-Bowl™, Shape-A-Bowl™, Describe-A-Shape, Project Grid, and Design Assistant. Starting from a selected initial shape, you can push/pull the object walls or trace a shape from a picture, or just sketch it. Play around with it until it's just right and then save the shape as a segmented project file with a specified height, diameter, and layer thickness.
RING dimensions are dictated by the shape and your selection of the number of sides. With

Segmented Project Planner

you have your choice of ringtype (frame miter, stave, compound miter, solid, RingMaster, veneer(thin frame miter), open segment, vertical spacers). Layer Tuner provides for rapid adjustment/tuning of the shape and wall thickness to get to the final ring dimensions.
ADORNMENT is whatever else you may do to your object. There are many choices, and

Segmented Project Planner

helps here with Diamonds, ZigZags, Mosaics, Open Segments, Vertical Separators, Vertical Laminations, Diamond Border, Slicer, Segmented Scene, solid colors, and

anything

you can make/take a picture of.
Throughout your project, the Segmented Project Planner does all the math needed to completely describe your project. Just print the project report, you can take it straight to the shop and start cutting, to get all angles, dimensions, and wood types for each segment of every layer. The program also prints angle, segment, and ring templates to help in the setup and assembly process.
Click here to see a detailed list of the features of the Segmented Project Planner.
To see more detailed information, including sample screen, content description, and sample printed report, Click Here ...