The

Segmented Project Planner

is software that assists you in designing segmented projects for the wood lathe; making the task easier, faster, and more accurate. The program provides the most comprehensive support available for segmented vessel design and construction. It runs on the PC under all current Windows versions and, with the help of Virtual PC, Parallels, Boot Camp, or VM Ware Fusion, the Mac as well. Registered users get free upgrades.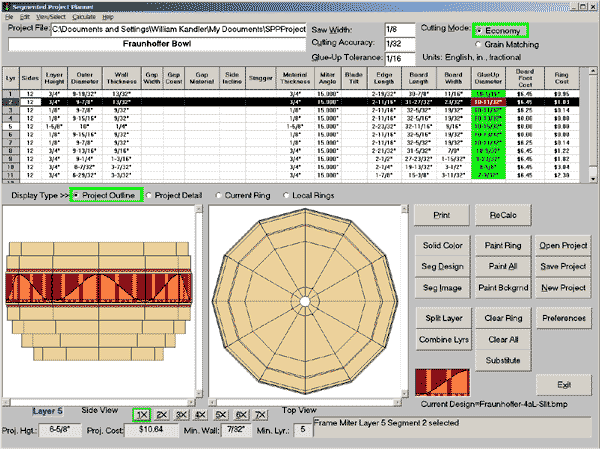 The Segmented Project Planner supports the beginning of the design activity by providing Sketch-A-Bowl™ for developing an initial shape for your object. Starting from a simple shape, you push/pull on the sidewalls of the object until it looks just right. Or, to trace a shape from a picture, or just sketch an object, use the Shape-A-Bowl dialog. In either case, save the shape as a segmented project file with a specified height, diameter, and layer thickness.
The Segmented Project Planner supports the final design activity by giving you hands-on manipulation/control over each project layer and showing you what it will look like. It then lets you paint individual segments with wood colors, complex segments/mosaics or graphic images to better see what the final project will look like. You can also establish open segments or vertical spacers.
Throughout your project, the Segmented Project Planner does all the math needed to completely describe your project. Just print the report, you can take it straight to the shop and start cutting, to get all angles, dimensions, and wood types for each segment of every layer. The program also prints angle, segment, and ring templates to help in the setup and assembly process.
I used the Segmented Project Planner to do all the planning and calculating needed to produce the segmented projects at the top of this page. Its ease of use and accuracy have helped me to produce professional looking items and spend most of my time where the real fun is; at the lathe.