Effective Jan 1, 2015, purchase of downloaded products by customers in the EU will no longer be supported on this sight due to new VAT regulations. For EU customers, only products on physical media (books, CDs, DVDs, Frustums) can be purchased.
Segmented Turning?

---

Design your first segmented project in 5 minutes with the

Segmented Project Planner

.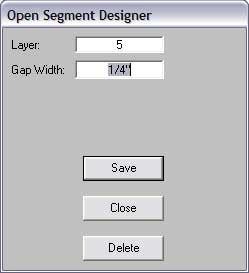 The Open Segment Designer dialog is a lot like the Vertical Spacer Designer. In fact, one started out as a copy of the other. With this little dialog, you can add an open space between every segment in a layer/row. Specify the gap as a measurement, as shown in the sample, or specify a percantage of the segment size. The maximum gap is 50% of the segment size.
Still not convinced? Just give me a call at (805) 489-5309. I'll answer all your questions.
Contact US: 792 Phillips Road || Arroyo Grande, CA 93420-5019 || Phone: (805) 489-5309 || Email: bkandler@segmentedturning.com

Page Last Updated: 6/23/2016